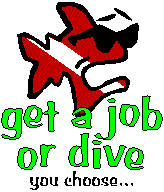 Overview:
Self-employed since 1969, Licensed Private Investigator since 1973, Dive Instructor since 1989, Internet-based business since 1998. Retired.
Diving Skills:
Employment History:
Aquatic Adventures
Department: Education
Title: Manager/Instructor
From: 1998
Duties Include:
Retail Sales of 7 Product Lines.

Service and Repairs.

Store Management.

Tour Guide and Boat Captain for Dive Center.
Tampa Dive Center
Tampa Florida
Department: Education
Title: Instructor
From: 1989-1994
Duties Included:
Instructor, taught Open water to Divemaster.

Retail Sales of 5 Product Lines.

Service and Repairs.

Store Management.

Tour Guide and Boat Captain for Dive Center.
Sunsation Dive Charters
Tampa Florida
Title: Captain
From: 1988
Duties Include:
Captain and Divemaster.

Boat Repairs and Maint.

Over 2500 Charters, Perfect Safety Record.

Sunsation Dive Charters is BBB A+ Rated
Silco Super Promotions
Las Vegas, Nevada
Department: Underwater Ordeal
Title: Dive Instructor
From: 1997-1998
Duties Included:
Instructed over 300 Radio DJ's and Local Personalities in use of surface supplied air and U/W communications. Broadcasting U/W for major charitable events and stunts.
Russell & Associates Investigators
Orlando/Tampa, Fla.
Department: Records and Freelance Underwater Investigation
Title: Owner/Investigator
From: 1973 ~ Licenses: A-567, C-1149, R96-00024.
Duties Include:
Youngest Investigator in Florida at Age of 21.

Past President of the Florida Association Of Private Investigators, Inc. Served 10 years as CEO.

Founder/Past President of The Bureau of

Missing Children

, a 501(c) (3) charity, est. 1983.

Author, "Involuntary Repossession or In the Steal of the Night", Locksmithing/Lock-picking section. Contributing author, "How to get anything on Anybody", Paladin Press, Surveillance section. Both available from Paladin Press.

Authority on Missing Persons/Children and Access of non-public records.
---
Additional Skills:
Association management, charitable fundraising, legislative lobbying, law enforcement, martial arts, computers from Apple to IBM, direct mail and marketing, web design, newsletter editing and design, public speaking, locksmithing, small engine repair, general marine repairs, retail and wholesale tropical import/export, commercial bottom and spearfishing, some Spanish. References upon request.

Scuba Diving Expert Dive Credentials Here!