Why PADI Enriched Air Diver?
By diving with enriched air rather than standard air you can extend your nodecompression limits. This means more time underwater. For example, if you dive to15 metres/50 feet on air, your no decompression limit is 80 minutes. But, diving on EANx 36 Nitrox gets you 220 minutes of no decompression time - an increase of 140 minutes.Plus, the Enriched Air Diver course is the only course that allows students to been enrolled in another course simultaneously. In other words a student enrolled in the PADI Rescue Diver Course, for example, can also take the PADI Enriched Air Diver Nitrox Course at the same time.
What do I need to start?

A current PADI Open Water Student (or qualifying certification from another organization)
Minimum age: 15 years
What will I do?
The PADI Enriched Air Diver Specialty certification emphasizes the theoretical and operational considerations involved with enriched air diving.
How long will it take?

Recommended Course Hours: 12
Minimum Open Water Training: two dives over one day
What will I need?
You'll need your PADI Enriched Air Crew-Pak, which also includes an Enriched Air 32 percent Table, Enriched Air 36 percent Table and Equivalent Air Depth/Oxygen Exposure Table.
Where can I go from here?
Your Adventures In Diving Padi Enriched Air Diver Adventure Dive may count towards your Padi Enriched Air Diver Specialty course at instructor discretion. This Specialty course also counts toward one of the five Specialties required for your Master Scuba Diver certification.
PADI Course Flow Chart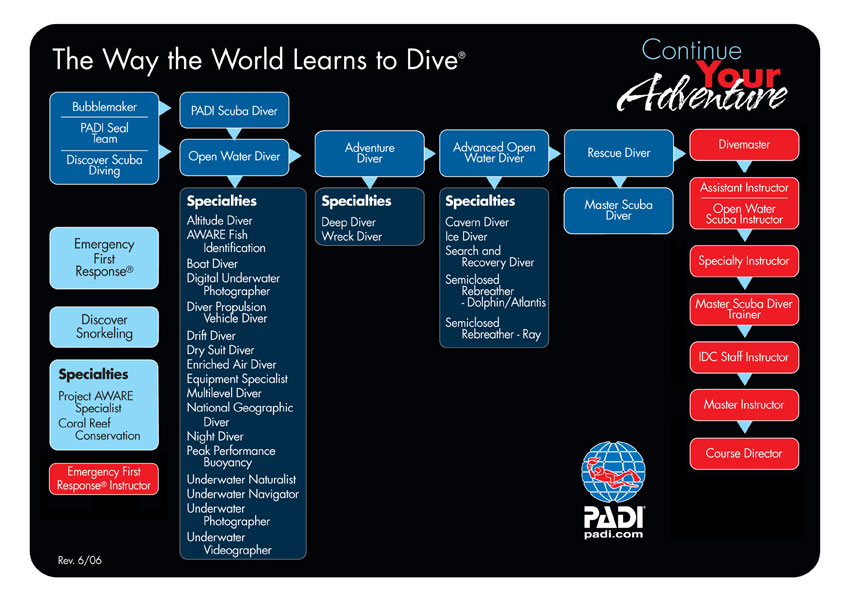 SIGN UP NOW!
To sign up, choose the weekend/ weekdays you want by reviewing the Dive and Course schedule/calendar and send an email to info@scubafla.com with your requests. We will send additional information and a booking form to you.