Why PADI Open Water Referral Course?
Complete the Classroom Academics and Confined Water sessions in your home area then go to sunny, warm Florida for your Open Water Dives.
What do I need to start?
Referral documentation from your original instructor. This could be a copy of the PADI Open Water Diver Course Record and Referral Form located on the back of the Student Record File or in the blue PADI Diver's Log and Training Record (Product No. 70047). Note: If one instructor completes all five Knowledge Development, or all five Confined Water Dives and the Waterman ship Assessment (at least a 200 meter/yard swim or 300 meter/yard mask, snorkel, and fin swim and a 10 minute tread/float) only one signature is necessary for each section. This is noted on the form. Another form of referral documentation is the Referral Card issued by the original instructor or dive center.
Referrals are only valid within 12 months of the last completed training segment. To extend the referral another 12 months, the original or another instructor at the same dive center must conduct a review of the course with you prior your referral class.
What will I do?
After a pre assessment session (review of your skills) with your referral instructor you will be ready for your 4 open water dives.
Not a PADI Referral Student? A required PADI Scuba Tune up course is required before open water dives may be conducted.
How long will it take?
PADI programs are performance based. You proceed as you demonstrate mastery of the course skills. This allows you to work at a pace that is comfortable for you. In most cases all 4 dives can be conducted over two days.
What will I need?
PADI Open Water Liability Waivers and Medical Forms. (provided with class)

Log Book/Log Recording Sheets (log recording sheets provided with class)
These materials will be forwarded to you when you sign up for classes.
Where can I go from here?
Continue the adventure with PADI's Adventures in Diving program, you next step in exploring the underwater world. You can also complete and Eanx Enriched Air Nitrox course during this course at a substantial discount.
What is the cost of the course?
For 2 Open Water Dives in one day, $150.00 per person. For 4 Open Water Dives over a two day period, $300.00 per person. Includes use of all class materials, scuba gear, four freshwater open water dives and certification cards. Additional $100.00 per person per person for 10 and 11 year olds. Instructor ratio 2 to 1. Not a PADI Referral Student, add a PADI Scuba Tune Up for $50.00. Students may provide their own personal dive quality snorkeling set: mask, snorkel, fins, boots. Rental sets available. All students can purchase top quality snorkel sets from us at a special student discounted price! Click here. Gulf training dives available, weather permitting and at an additional fee.
PADI Course Flow Chart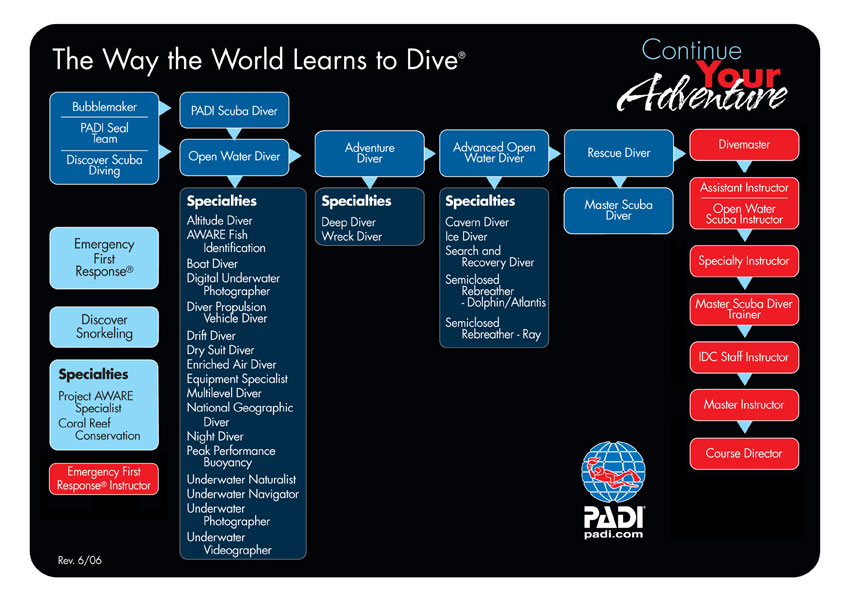 Gift certificates available.

SIGN UP NOW!
To sign up for class, review the course schedules, choose the weekend/ weekdays you want (give yourself at least 10 days to study the academics) by reviewing the Dive and Course schedule/calendar and send an email to info@scubafla.com with your requests. We will send additional information and a booking form to you.