Why PADI Scuba Review?
Are you a certified diver, but haven't been in the water lately? Are you looking to refresh your dive skills and knowledge? Are you a PADI Scuba Diver or referral student diver and want to earn your PADI Open Water Diver certification? If you answered yes to any of these questions then PADI Scuba Review is for you.
What do I need to start?
Hold a scuba certification or be enrolled in a scuba certification course

Minimum age: 10 years old
What will I do?
First, you'll review the safety information you learned during your initial training. Then, you head to confined water to practice some of the fundamental scuba skills. There's also a supervised open water dive.
How long will it take?
A few hours to a full day
What will I need?
PADI Scuba Tune-up guidebook or PADI Scuba Tune-up Multimedia
Where can I go from here?
After your Scuba Review you'll be prepared to get back into diving or continue your dive education.
PADI Course Flow Chart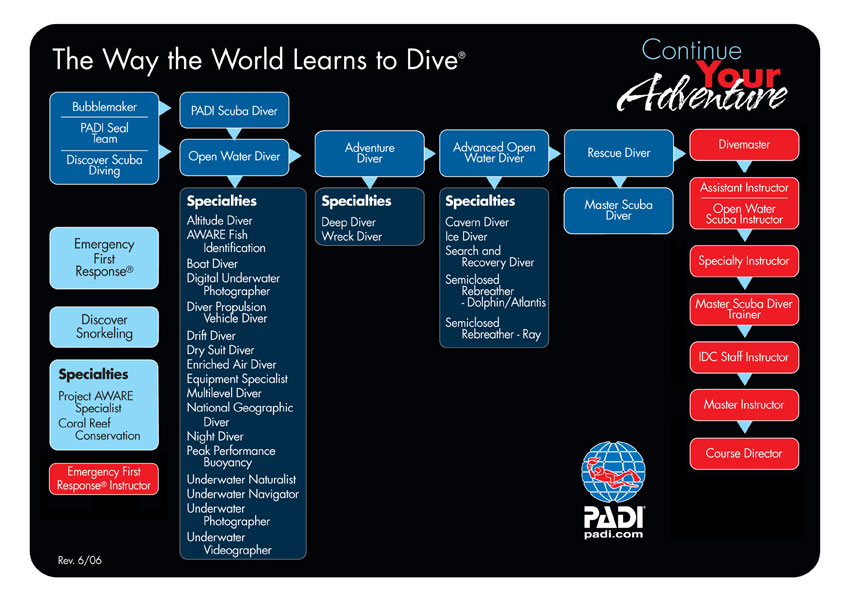 Gift certificates available.

SIGN UP NOW!
To sign up for class, review the course schedules, choose the weekend/ weekdays you want (give yourself at least 10 days to study the academics) by reviewing the Dive and Course schedule/calendar and send an email to info@scubafla.com with your requests. We will send additional information and a booking form to you.